International Payments
If you want to expand your business across borders, reaching several markets, the Redicom Payments solution is the most suitable for you.
With a fully prepared tool for multimarket commerce, we have the most popular global payment methods in the world. Our solution simplifies the entire payment tracking process through centralized transaction management.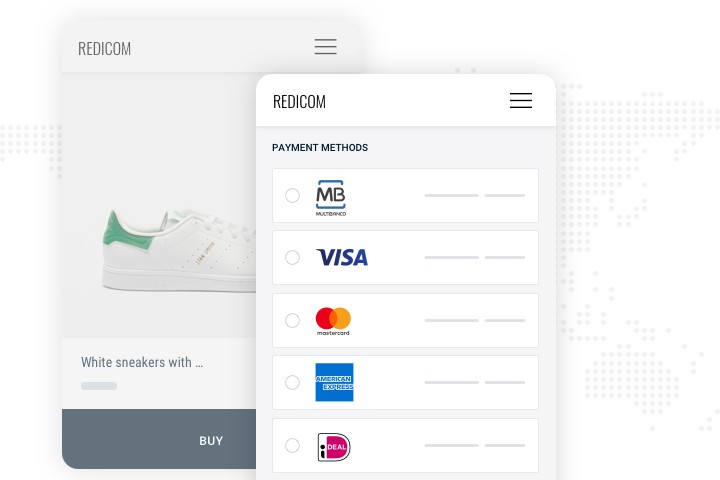 Acceptance of local payments, APM's and digital wallets


Acceptance of over 150 currencies


Simplified payment tracking process


More concrete data – better analysis and performance in the markets


Payment methods
The Redicom Payments solution has the most popular global payment methods.
Save cards for future purchases
Offer a superior shopping experience by reducing the number of steps and data entered at checkout. The Redicom Payments solution,
in partnership with checkout.com, allows you to save and manage the data of the most used cards,
the need to enter them whenever a payment is made.


Possibility of recording cards


Simple and fast payments on future online purchases


Greater security in the payment process


Fraud protection through Machine Learning


Less shopping cart abandonment



Card Engraving
Allow your customers to record their card details, enabling payment in a simple and fast way for future online purchases.
Secure Payments
Offer your customers and your business greater security in payments by encrypting all the information on your customer's cards.
Anti-fraud System
Protect your business and your customers with an anti-fraud system powered by Machine Learning that analyzes the origin of all transactions.
Higher payment acceptance rate
With the convenience of a card wallet, make checkout a faster, simpler and more intuitive process, reducing shopping cart abandonment.
Map for Bank Reconciliation
Consult the details of bank transactions to assess/validate
deposits and payments in a given period.



Financial Maps


Banking Movements


Commission maps


Real-time reports


The most complete solution for your business
Redicom Payments is a 100% integrated solution on the Redicom Commerce Cloud B2C and B2B platform. Through our solution, and at no additional cost to use, have multiple payment methods and boost your business locally and across borders, in different markets. By providing your customers with more options for payment methods, in a totally transparent and secure way, you will see an increase in your conversion rate.
Product (s) added to cart